Explore 7 majestic, wild and beautiful destinations that 'captivating' Dong Van – Ha Giang Viet Nam
Written by
Deepak Bhagat
, In
Travel
, Published On
November 25, 2020
,
434 Views
Last modified on
December 14th, 2021
About Dong Van –
Dong Van is a mountainous district of Ha Giang province. This place is famous for its pristine natural scenery, majestic, but no less poetic, lyrical. Regardless of the season of the year, Dong Van always attracts a lot of young people who love to experience and love to explore. Coming to 7 famous tourist destinations in Dong Van below, you will be immersed in the breathtaking beautiful natural picture and have the opportunity to learn many interesting things about the history and culture of this land.
The most well-known must-visit tourism destinations of Dong Van Vietnam
Dong Van ancient town
One of the certain places to visit in Ha Giang tourism in general and Dong Van tourism in particular is Dong Van old town. This place used to belong to Dong Quan, Nguyen Binh Chau, Tuong Van district, today Dong Van town, Dong Van district, Ha Giang province.
Dong Van ancient town was planned to build by the French colonialists in the 1880s. Although it has gone through hundreds of years of history, the houses here are still very intact, exuding an ancient, peaceful beauty. incredible. Walking on a long street only about 1 km, you will feel time stop. Especially, there is also Dong Van market here, which is small but contains many interesting things for us to explore.
Lung Cu flagpole
This popular tourist destination in Dong Van is located about 22 km northwest of the town center, close to the border with China. Lung Cu flagpole is the northernmost point of the Fatherland, built at an altitude of 1700 meters above sea level.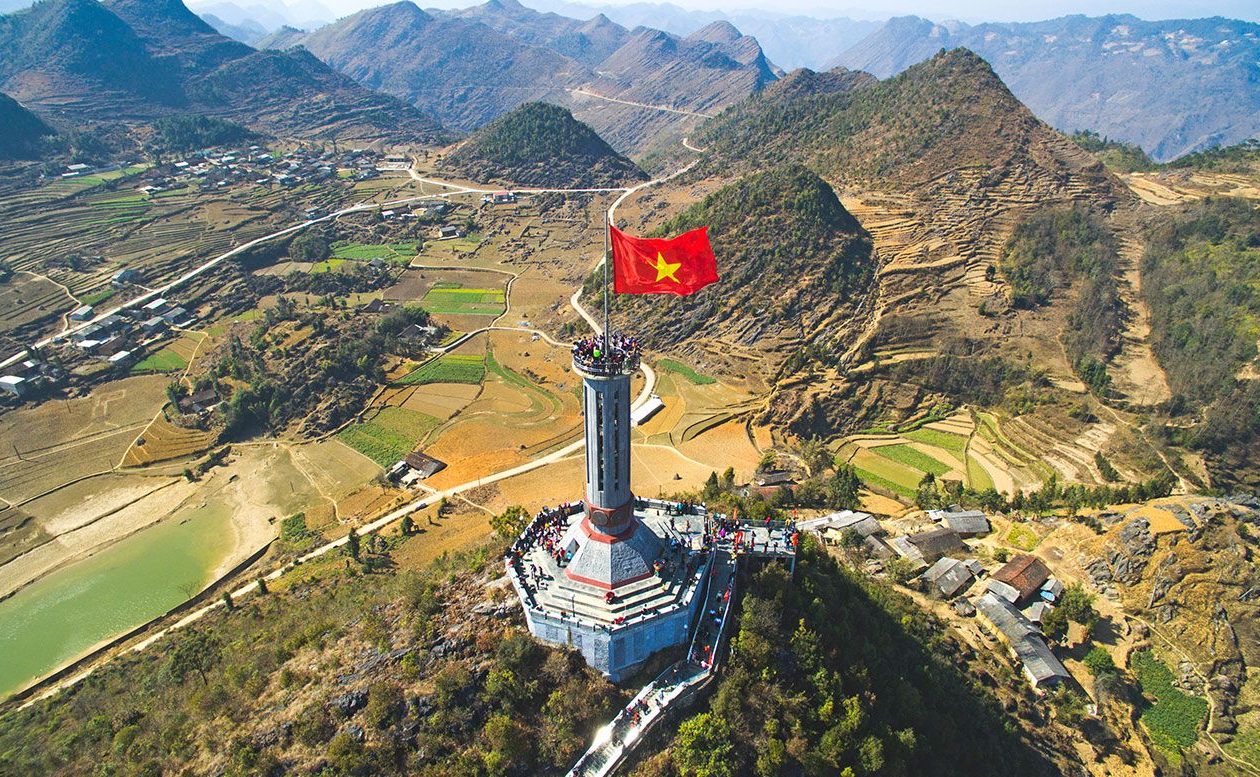 Lung Cu Flagpole, 1700 meters above sea level
Lung Cu flagpole is always considered an ideal destination for young people who are passionate about traveling and want to check in at the North Pole of the country at least once in their life. To reach the flagpole, you will have to conquer 389 steps. Standing from here, you can admire a majestic, poetic natural landscape of the mountains and Nho Que river while at the same time arousing great national pride, bringing a very fluttering emotion. hard to describe.
The field of flowers of Sung La triangular circuit
Triangular flowers have long been considered a symbol of Ha Giang tourism. Every year, millions of tourists come from all over the country to the top land of the country to have the opportunity to see these small but surprisingly beautiful flowers. Sung La Commune in Dong Van owns one of the most beautiful triangular flower fields in Ha Giang.
Triangular flowers field in Sung La town
In addition to the circuit triangle, Sung La also has a flower hill and a colorful rose hill. Surely this will be a virtual living paradise for young people in the upcoming Dong Van trip.
Dong Van rock plateau
The rocky plateau is a famous tourist destination in Dong Van that you should not miss. This is a large plateau with an area stretching over four districts of Ha Giang including: Quan Ba, Yen Minh, Dong Van and Meo Vac.
Dong Van rocky plateau has an average altitude ranging from 1000 to 1600 meters above sea level. Coming here, you will inevitably be surprised when you can admire the wonderful, majestic and pristine natural picture, created by rocky outcrops. UNESCO Organization has also recognized Dong Van Plateau as a global geopark.


Dong Van Stone Plateau has been recognized by UNESCO as a global geopark
Vuong Palace
The Royal Family or the Meo King Palace is also a famous tourist destination in Dong Van, attracting a lot of tourists to visit every year. This ancient residence is located in the Sa Phin valley, on a campus of 1120 square meters.

The Vuong family's mansion has a unique architecture
Lung Khuy Cave
Lung Khuy cave can be said to be an invaluable gift that the Creator has given to Dong Van land. Located in the middle of the mountain, this cave is considered as the first cave of Ha Giang, attracting visitors by the magic beauty of unique limestone stalactites. The deeper you go inside, the more visitors will be amazed at the rocks with all shapes and different colors appearing in front of your eyes.

Lung Quy cave with a system of beautiful and magical limestone stalactites
Pho Cao Town
Fox Street is a famous tourist destination in Dong Van located in the northwestern area of ​​the rocky plateau. Seen from above, Fox Street is like a natural picture with all colors, from the green of the fields, the pink of the triangular flower field to the gray of the cat-ear rocky mountain.


Pho Cao town
Upon arriving at Pho Cao commune, you will feel a peaceful and serene atmosphere covering this place. Do not miss the opportunity to visit simple, rustic houses, check in the beautiful field of triangular flowers or enjoy the delicious specialties here.
With the above interesting destinations, Dong Van always deserves to be a definite place to explore when traveling to Ha Giang. Have a memorable trip. Do not forget to follow Ha Giang's travel news to update more interesting things.
Tips for First Time Visitors in Vietnam:
If you've never been to Vietnam before, Emily has kindly provided some helpful tips to make your trip easier. She suggests:
Prepare your passport in advance, and make sure that your passport has at least 6 months validity, with left space for visa stamping
Check to see whether you are citizen of a country listed in the Vietnam visa exemption list or not. If you are required to have a Vietnam visa , and want to get a visa in very urgent case, you can use Urgent Vietnam visato get it and fly to Vietnam on short notice
The currency in Vietnam is Vietnam Dong, but you can bring USD and exchange this to VND before getting onboard a plane or at one of the exchange counters at the airport, upon arrival
Make sure you book your flight tickets, a tour if you would prefer one, through the reliable agency